San Diego Cyclist Accident Lawyer Serving Riverside & Escondido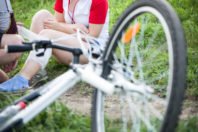 Bike Accident Lawyers in San Diego
Personally Committed to Your Physical and Financial Recovery
More than 100 people in California are killed in bicycle collisions every year, and hundreds of thousands more are injured, the California Department of Motor Vehicles says. "Some bicycle-related crashes are connected to the bicyclist's behavior, while others are due to the motorist's lack of attention."
The difference, of course, is that a bicyclist in a collision with a motorist (a car or truck driver) is far more likely to be seriously injured or killed than the motorist.
In the San Diego area, Harker Injury Law protects the rights of bicyclists who have been seriously injured in accidents caused by negligent motorists, or of families grieving a bicyclist who was in a fatal accident. We fight insurance companies who would shortchange or deny an injured bicyclist's claim.
We'll help you seek full compensation for your injuries and losses from a bicycle accident.
Bronson Harker and other members of Harker Injury Law have seen family, friends and others struggle with devastating injuries sustained through no fault of their own. We understand the long-term consequences of the serious injuries commonly suffered in bicycle accidents.
Contact Harker Injury Law in San Diego today for a free consultation about your bicycle accident. Learn how our team can provide a variety of help to you so you can focus on recovery from your injuries, including how we will:
Manage all aspects of a personal injury claim to recover compensation for you, including all paperwork and contact with insurers.
Contact creditors pestering you about bills related to your accident, and explain that a legal claim is pending. (A "letter of representation" on Harker Injury Law letterhead works wonders with most creditors.)
Ensure one-on-one attention from your attorney about legal matters.
Respond promptly to your calls and texts, including at night and over weekends.
Keep track of your doctor appointments so we can reach out and stay up to date on how you are doing.
We are sensitive to the pressure of dealing with injuries and time away from work as costs and bills mount up. We can help you in a trying time. All casework is on a contingency-fee basis. You owe us nothing until we have recovered money for you.
Contact us today about a free, no-obligation discussion of pursuing a bicycle accident claim in the San Diego area.
We Have Experience With Bicycle Accidents in San Diego
Harker Injury Law has a long track record of success taking on insurance companies and securing maximum compensation for clients who have been in accidents caused by others' negligence.
Bicyclists and motorists have a legal obligation to share the road and to obey traffic laws. When a negligent motorist causes a bicycle accident by violating the law or other recklessness, the cyclist has a right to compensation for their injuries and other losses.
Motorists cause bicycle accidents by engaging in a variety of careless and reckless driving. The CA DMV, as quoted above, points out the biggest hazard bicyclists in San Diego face: inattentive motorists engaged in distracted driving.
It is quite likely that the driver who caused your accident was distracted. In a recent survey, more than 54 percent of California drivers said they had been hit or nearly hit by a driver who was talking or texting on a cell phone, according to the CA DMV.
Bicyclists are also injured and killed by:
Aggressive driving (speeding, frequent lane changes, running or jumping stop signs and red lights, failure to yield, etc.).
Fatigued / drowsy driving.
Driving under the influence (drunk or drugged driving)
More specifically, a motorist is likely to have violated the bicyclist's right-of-way, such as by:
Failing to look before turning in front of a bicyclist or backing into a bicycle rider. "Right hooks," in which a car turns right and into the path of a bicycle that has the right of way, are one of the most common car-bicycle crashes.
Pulling out of a side street, parking lot, driveway, etc., into a bicyclist's path.
Driving alongside of a cyclist instead of giving them the full lane, and eventually sideswiping the bike.
Passing a bicycle without allowing at least 3 feet of clearance, as required by California law, and hitting the bicyclist.
Opening the door of a parked car in front of an oncoming bicycle, known as "dooring" the cyclist.
You probably see your bicycle accident, and perhaps its primary cause, described above. We have seen these types of bicycle accidents and the terrible injuries and loss like you are dealing with, too, such as:
Head and traumatic brain injuries (TBIs)
Back and spine injuries, including paralysis
Internal organ damage
Leg, arm, hip, pelvis and/or rib fractures
Soft tissue injuries (contusions, abrasions, lacerations, degloving)
Our objective as your personal injury lawyer in a bicycle accident claim is to hold the at-fault driver's insurance company to its legal obligation to you. We will compile a claim that documents what happened and who is responsible, as well as all your compensable losses, and push aggressively for maximum payment from the at-fault driver's auto liability policy and any other available insurance coverage.
Most personal injury claims can be settled outside of court. Accepting a settlement is always the client's decision. If we cannot obtain an appropriate settlement, we will go to court ready to present a solid and persuasive case before the jury.
Are You Being Paid What You Deserve for a Bicycle Accident Claim?
You may have already been in touch with your insurance company or an insurer representing the party responsible for your bicycle accident. Most motorists in accidents want to do the right thing, and they have liability insurance because accidents do happen and, of course, it's the law.
But insurance companies don't stay in business by paying out the maximum amount their policies promise every time someone files a claim. In fact, their objective to pay as little as possible, or nothing at all if you say or do something that lets them off the hook.
Insurance law is complicated, and insurers are ruthless when it comes to using it to minimize payouts and outright deny injury claims. You should be very wary of insurance company offers or directives after suffering serious — expensive — injuries and losses in an accident.
At Harker Injury Law, our experienced San Diego bicycle accident attorney stops insurance companies from mistreating injured bicyclists and their families. Our personal injury team can build a strong bicycle accident claim for you by launching an immediate investigation into the crash and:
Collecting accident reports, witness statements, crash photos or video, and other evidence.
Documenting damage to your bicycle, helmet, clothing, etc., to illustrate the force of vehicle impact in your accident.
Documenting the driver's vehicle damage (dented hood, broken windshield, etc.), to illustrate car speed and force of impact.
Obtaining medical records of treatment for your injuries and their costs, and your prognosis for recovery.
Identifying all sources of compensation to you, including your own insurance coverage.
Conferring with doctors, family, friends, etc., about the physical and emotional effects your injuries have had on you.
Seeking the motorist's cell phone records, which may indicate distracted driving activity at the time of the crash.
Monitoring the motorist's social media accounts, which sometimes demonstrate a negligent driver who has caused an accident.
This information is key to developing a complete picture of your bicycle accident, who should be held accountable, and what full, appropriate compensation to you consists of.
In particular, we want to thoroughly document your medical needs and their costs up to now and into the future, as well as the ongoing pain and suffering this accident may cause you.
Injuries suffered in a serious bicycle accident may prevent you from riding again for a long time, if not forever. If bicycling is integral to your lifestyle, as it is to many in San Diego and Southern California, this is a loss you can and should be compensated for.
Also, we will not overlook the cost of damage to what may be a very expensive bicycle. You should be fully compensated for the cost of repairing or replacing your bike if the accident was someone else's fault.
In cases of disabling injuries in a bicycle accident, we work with experts to document our client's anticipated medical costs. A life care plan is based on your medical records and prognosis to ensure it is customized to provide detailed accounting of your multiple needs and their costs over the course of your life with a disability.
We also calculate income loss during recovery and into the future if disabling injuries reduce your earning capacity.
After a successful personal injury claim, you should not have lingering debt or future financial problems related to your bicycle accident and injuries.
If the insurance company has not offered you a settlement that you know for a fact ensures that level of financial stability, you should contact Harker Injury Law in San Diego now and decline anything presented by insurers.
Meet Our Compassionate Personal Injury Lawyer Today
If you have suffered serious injury in a bicycle accident, you need a personal injury attorney who is sympathetic to your needs and has the resources to stand up to large insurance companies. Bronson Harker and Harker Injury Law will work aggressively to compel insurers to provide full payment in your bicycle accident claim.
We become personally vested in each case we handle, and are driven by compassion for our clients' welfare. Whether your bicycle accident has occurred in San Diego, El Cajon, Escondido, Riverside, or the surrounding areas, our law firm is here to help.
Schedule a free consultation today to talk about your bicycle accident and how we are prepared to fight for you.