Whiplash & Neck Injury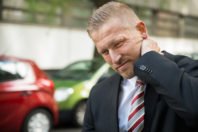 Whiplash & Neck Injuries from Car Accidents in San Diego
Whiplash may be the most well-known of all car accident injuries. Rear-end car accidents — being hit from behind — are the most common cause of whiplash. Any motor vehicle collision that abruptly shakes or jolts the head and neck can cause neck injuries, including whiplash.
If you have suffered whiplash or similar neck injury in a car accident in the San Diego area that was someone else's fault, Harker Injury Law can help you. We understand the pain, suffering, medical bills and other losses you face. We know that you deserve compensation that auto insurers are likely to deny you.
Bronson Harker of Harker Injury Law is a skilled San Diego car accident lawyer dedicated to providing one-on-one attention and aggressive representation to whiplash and neck injury victims like you.
Bronson and others at our firm have seen friends and family members deal with life-altering car accident injuries. We are very protective of our clients and determined to see to it that insurance companies do what's right by them.
Don't let the insurance company take advantage of you as you deal with whiplash or another neck injury from a car accident. Harker Injury Law will take up the fight for you.
Contact Harker Injury Law in San Diego, Escondido or Riverside today for a free, no obligation initial consultation about a potential car accident claim and compensation for your whiplash or neck injury.
What Is Whiplash in a Car Accident?
Whiplash is a neck injury caused by forceful, rapid back-and-forth movement of the neck, like the cracking of a whip.
A vehicle occupant can suffer whiplash in any hard collision. Rear-end accidents are the most common type of car accident and the most common cause of whiplash.
In a rear-end collision, the bodies of people in the car that has been hit are shoved forward upon impact, but their heads and necks tend to stay in place. As the torso moves forward, the neck is stretched and arcs backward for a moment before snapping back into an upright position.
This hyperextension of the neck, or rearward bending beyond its normal range of motion, likely causes many injuries, the Insurance Institute for Highway Safety (IIHS) says.
The IIHS says the term "whiplash" may be applied to a variety of neck injuries that often occur in rear-end crashes.
Whiplash neck injuries may include:
Muscle strain
Tearing of soft tissue
Nerve damage
Disk damage
Ruptures of ligaments
Fractures of the cervical vertebrae
The Mayo Clinic says common symptoms of whiplash include neck pain, stiffness and headaches, which sometimes subside over a few months after a course of pain medication, physical therapy and other treatments.
However, many whiplash victims experience chronic neck pain and other ongoing complications. Nerve damage, which can occur even when other injuries are mild, is probably responsible for long-term symptoms such as headaches, dizziness and ringing in the ears, the IIHS says.
Obtaining Compensation for Whiplash and Neck Injury in Car Accidents
Rear-end car accidents are easily understood: One car fails to slow or stop, and runs into the rear of the vehicle ahead of it. In California, the driver in the rear is usually charged with following too closely (tailgating).
Showing that the other driver was at fault in a car accident that left you with whiplash or a similar neck injury may not be difficult. The company that issued the driver's auto liability insurance may accept their client's responsibility for the accident.
The difficulty lies in the amount of compensation the insurer offers for your injuries and other losses.
Full and fair compensation after a car accident consists of money for:
Medical expenses, including the ER visit, follow-up doctor appointments, medications, and all other medical needs and treatment.
Damage to your vehicle, including repairs and reduction in the car's resale value, or replacement costs.
Lost wages, including payment for vacation days or sick time you take and to make up for lower pay in the future if you cannot return to work you had before because of your injuries.
Your physical and emotional pain and suffering.
To a large degree, your medical condition will drive the amount of compensation you deserve in a car accident claim.
First, it could take several months of treatment before you recover from whiplash or a similar neck injury. A settlement offer made earlier is a guess at best. It does not truly account for your costs.
Second, the lingering, chronic pain you may suffer from a neck injury is often hard to measure. The insurer could simply try to deny your pain, and say its offer meets all obligations to you.
Most insurance company claims adjusters know as soon as they see "whiplash" or "neck injury" on a claim what they can offer you as a settlement for your medical expenses. An adjuster also knows that you are likely to accept it.
But with an experienced Southern California car accident attorney like ours at Harker Injury Law, you can fight back and get what you deserve for whiplash neck injuries suffered in a motor vehicle accident.
Harker Injury Law can document your injuries and their detrimental effect on your life as part of a solid case for compensation to you. We will account for all losses you have suffered and are likely to face in the future, and push insurers to meet their true obligation to you.
We can gather medical records and have them analyzed by additional medical professionals to provide second opinions. If necessary, we can have a consulting specialist examine you and submit an independent report about your injuries and prognosis. We may also have you work with a vocational therapist to determine how your injuries affect your ability to work for a living.
We will also discuss with you the need to keep a journal of your recovery experiences, good and bad, which may be used as additional evidence to substantiate your pain and suffering.
Our thorough case preparation gives us an edge as we negotiate with insurance companies for full and fair compensation to you. It also shows them our team is ready to take your car accident case to court if they refuse to offer an appropriate payout.
Contact Harker Injury Law today to set up a free initial consultation about a strategy to obtain the compensation you deserve for your car accident injuries and other losses.
Our Commitment to Your Recovery
Our objective as your personal injury lawyer in a car accident claim is to hold the at-fault driver's insurance company to its legal obligation to you. We will do the same for any additional parties that contributed to your accident and injuries.
We will document what happened to you and who is responsible, as well as all of your compensable losses, and push aggressively for maximum payment as promised in the at-fault driver's auto liability insurance and any other available coverage.
We will also:
Manage all aspects of your personal injury claim so you can focus on your health.
Answer your calls and texts, including at night and over weekends, and keep you up to date on the status of your claim.
Ensure that you communicate directly with your attorney about legal matters, not with an assistant or a paralegal.
Contact creditors who seek payments on accident-related bills, and explain that a legal claim is pending. A letter of representation calms most creditors.
Keep track of your doctor appointments so we can keep up with how you are doing and anything else we can do to help you.
Do all legal work for you on a contingency-fee basis. This means our fee is contingent on the money we recover for you. If we do not obtain a settlement or court award for you, you will owe us nothing. If we do recover payment to you, as we expect, we will retain a previously agreed-upon percentage as our fee. Nothing comes out of your pocket, and you are at no financial risk as we investigate, compile evidence and file and pursue one or more claims for you.
Most personal injury claims can be settled outside of court. Accepting a settlement is always the client's decision. If we cannot obtain an appropriate settlement, we will go to court ready to present a solid and persuasive case to judge and jury.
Contact Our Compassionate Whiplash Injuries Lawyer Today
If you have suffered whiplash or similar neck injury in a car accident, you need a personal injury attorney who is sympathetic to your needs and has the dedication necessary to stand up to insurance companies. Harker Injury Law in San Diego provides aggressive legal representation that compels insurers to provide full payments in car accident claims like yours.
Bronson Harker and the entire Harker Injury Law team become personally vested in each case we handle, and are driven by compassion for our clients' welfare. We have seen how insurance companies put profits before people.
Whether you were injured in a car accident in San Diego, El Cajon, Escondido, Riverside, or the surrounding areas, Harker Injury Law our law firm is here to help. Schedule a free consultation today to talk about your car accident and how we will fight for compensation to you.