San Diego Dog Bite Lawyer Serving Riverside & Escondido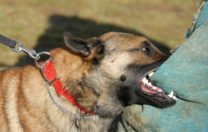 San Diego Dog Bite Attorneys
Personally Committed to Your Recovery After an Animal Attack
If you or a loved one has been bitten by a dog, we understand that this has likely been a frightening attack that has caused serious injury. Dog bites and attacks often require medical care, including reconstructive surgery in the more vicious dog mauling attacks.
Sadly, you have likely come to this page because of a child's injuries. Children are, by far, the most common victims of dog bites and are far more likely to be severely injured, according to the American Veterinary Medical Association. Senior citizens are the second most common dog bite victims.
At Harker Injury Law in San Diego we have stood by friends and family members who suffered life-altering injuries, and we want stand with you as you deal with a serious dog bite injury. We can help you seek appropriate compensation for your medical bills, pain, suffering and other losses. We can also assist and advise you in other ways, including helping to make sure you get appropriate medical attention, and by dealing with insurers so you can look after your and your loved ones' health.
Bronson Harker and his Harker Injury Law team help individuals and families seek insurance compensation when they have been injured by someone else's actions, such as what led to your dog bite injuries.
As your attorney, Harker Injury Law will:
Manage all aspects of your personal injury claim so you can focus on your health.
Ensure that you work directly with your attorney about legal matters, not an assistant or a paralegal.
Contact creditors pestering you for payments related to your accident, and explain that a legal claim is pending.
Answer your calls and texts, including at night and over weekends.
Keep track of your doctor appointments so we can check in on how you are doing
Compile and pursue a solid case documenting the compensation that is owed you.
If you are dealing with wounds caused by a dog bite, attack or mauling, you have tough days ahead. You don't need to worry about medical bills and other costs associated with this incident. Harker Injury Law will assume the financial burden of your insurance claim by covering all costs of investigating and processing a personal injury claim for you. In fact, we won't charge you a cent until we recover money for you.
Let us help in this trying time. Contact us for a free, no-obligation discussion of your rights today.
Seeking Compensation for Dog Bite Injuries
Under California law, the owner of any dog has full responsibility for any harm the animal does to a person. There's no need to prove the dog was known to be vicious or had previously attacked or bitten someone, nor do you need to show that the dog owner was negligent.
You may seek compensation for a dog bite caused by someone else's dog as long as you were:
Not trespassing
Not provoking the dog
Not being subdued by a police or military dog
In cases in which a child was bitten by a dog, the child may not be held responsible for trespassing or provoking a dog if their age or maturity level indicates they would not understand these concepts.
In a personal injury claim after a dog bite or attack you could seek compensation for:
Medical expenses, including all costs related to dog bite injuries
Lost income from being out of work due to injuries
Property damage, such as if you were on a bicycle damaged in the attack
Pain and suffering, which may be substantiated by the type and/or extent of injuries you suffered. In California, civil juries are instructed to consider what is owed for:

Physical pain
Mental suffering
Loss of enjoyment of life
Disfigurement
Physical impairment
Inconvenience
Grief
Anxiety
Humiliation
Emotional distress
If you were performing a paid service involving the dog when bitten, such as grooming or making a home delivery, you could seek workers' compensation benefits instead of or in addition to personal injury compensation.
In determining appropriate compensation for a personal injury claim after a dog bite, it is vitally important to look at future costs and losses.
As you have tragically come to learn, a dog attack may cause multiple serious injuries. In addition to one or more bites from sharp teeth and, in some breeds of dogs, powerful jaws, an attacking dog jumps on and claws its prey.
You may have suffered one or more wounds, such as:
Lacerations (cuts), including puncture wounds or deeper and wider tears into muscle and other soft issue.
Broken bones, such as in the hands or feet, and larger bones of children or the elderly, which are weaker.
Impact wounds from being knocked down, such as cuts and bruises or broken bones, as well as head and neck injuries (including concussion or more severe TBI — traumatic brain injury), back and spine injuries, and more.
There is also a remote chance of contracting rabies from a dog bite or developing bacterial sepsis (blood-borne infection).
As we consider medical costs in a dog bite claim, we must consider future needs for treatment or care. For example, reparative and cosmetic surgery may be delayed for medical reasons or for a child to age and mature. You may have ongoing medical needs related to such injuries as severe and debilitating TBI, or back injuries, which may cause chronic pain or, if there is spinal cord damage, paralysis.
It is also proper to consider the psychological trauma of a dog attack, and the costs of emotional counseling and therapy, which the attack victim is entitled to. This extends to the needs of someone who witnessed a loved one being viciously attacked and injured, as well.
Harker Injury Law would work with you and your doctors to get a realistic picture of your injuries and recovery prognosis, and all of the care and treatment you require and should be compensated for. Then we would aggressively push insurers to pay all that you deserve.
Seeking Compensation for Dog Bite Injuries With Our Help
The compensation you may obtain in a dog bite claim will likely come from insurance, such as homeowners' insurance if you were bitten by a family pet, or business liability insurance if attacked in a store or a similar place.
You might be surprised to learn that California ranks No. 1 in the United States for the number of dog bite liability claims and the total amount paid in claims, according to the Insurance Information Institute.
Unfortunately, there's no guarantee you'll get what you deserve through insurance coverage held by the dog owner who is liable to you. Insurance companies don't just step up and write checks for tens of thousands of dollars. In fact, insurers do everything they can to avoid large payouts, and their tactics are not always on the level.
Keep in mind, also, that insurance companies deal with dog bite claims every day (almost 2,000 a year from California alone). This is probably your first serious dog bite, and the last thing you ever expected to deal with.
The insurer you are dealing with knows the law and what they can lead you to say or do that gets them off the hook.
But Harker Injury Law deals with dog bite claims and other personal injury case every day, too. Our attorney has a long track record of success in taking on insurers and securing maximum compensation for deserving clients. Our personal injury team is aggressive in building a strong case for accident victims by:
Launching an immediate investigation into the attack you or your loved one suffered.
Collecting any animal control or police reports, witness statements, and other evidence.
Obtaining your statement and medical records, and other evidence such as photos or damaged clothing or other belongings.
Identifying all possible sources of compensation to you, including coverage from insurance you hold.
Talking to your doctors, family and friends about how the attack and your injuries have affected you physically and emotionally.
Consulting with medical experts and life care planners to develop a prognosis for how your injury will affect you into the future.
Although we can settle most claims appropriately through our aggressive negotiations, and thereby avoid the inconvenience of a trial, our team always prepares for a case as if it is going to a jury. In addition to the edge this gives us in negotiations, it shows the insurance company we are ready to fight them in court if they refuse to offer a proper payout.
Schedule your free consultation today to discuss the details of your dog bite case, and let our knowledgeable San Diego personal injury lawyer start to build a smart legal strategy toward compensation for you.
Our Compassionate Personal Injury Lawyer Is Ready to Help Today
After suffering serious injury in a dog bite, attack or mauling, you need a personal injury attorney who understands what you are going through and has the resources to stand up to large insurance companies that would deny your needs.
At Harker Injury Law, our team has extensive experience and a successful track record of winning full and fair compensation for clients in Southern California who have been seriously injured.
We are driven by compassion for our clients to become personally vested in every case we handle. Whether you have suffered a dog attack in San Diego, El Cajon, Escondido, Riverside, or a nearby community, Harker Injury Law is here to help. Set up a free legal consultation today to talk about your dog bite case and how we'll protect your rights.