San Diego Wrongful Death Lawyer Serving Riverside & Escondido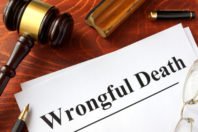 San Diego Wrongful Death Lawyers
Personally Committed to Your Recovery After the Wrongful Loss of a Relative
Little in life is as devastating as the death of a loved one that should not have happened. If your family member's death was caused by the wrongful act of another person or entity, you may be able to obtain compensation for your financial losses and your grief.
The San Diego firm of Harker Injury Law can assist you with a wrongful death claim. More so, we can help by obtaining answers for you and providing compassionate support in a trying time.
Bronson Harker and his Harker Injury Law team help individuals and families in the San Diego area seek insurance compensation when they have lost loved ones because of someone else's negligence. We fight insurance companies on our clients' behalf, but we also become personally vested in every case we handle.
We at Harker Injury Law have stood alongside friends and family members who have suffered catastrophic injuries. There are important decisions to be made in times of loss, and we can help you see all the options and weigh the requirements.
If you have lost a close family member unexpectedly — in a car or truck accident, a slip-and-fall accident, a dog attack, a drowning, etc. — Harker Injury Law will stand with you. We'll fight for all the compensation you deserve for your loss, and provide personal attention that puts your needs and interests first.
You can trust our dedicated wrongful death law firm to:
Provide a direct line of communication between you and your attorney, not hand you off to an assistant or a paralegal
Respond to your calls and texts, including at night and on the weekend
Manage all aspects of your wrongful death claim so you can focus on putting your life back together
Contact Harker Injury Law in San Diego today for a free discussion of how we can assist you. Our cases are about people, not profits. We're here to help.
Does California Law Allow You to File a Wrongful Death Claim?
After a fatal accident, such as a car, truck or slip-and-fall accident, California law allows certain surviving family members to seek compensation for their losses from parties responsible for their loved one's death.
Payments obtained through liability insurance can pay medical and funeral costs, replace the wages of a family's breadwinner, and compensate the grieving for the loss of their personal relationship with the deceased.
California law that addresses wrongful death claims specifies which family members may pursue compensation. Those eligible to file a claim include the:
Surviving spouse
Domestic partner
Children
Blood-relatives of deceased children, i.e., grandchildren
If there are no surviving blood-relatives, the persons, including the surviving spouse or domestic partner, who would be entitled to the property of the decedent (deceased) by intestate succession. These are people a court would normally distribute compensation from the deceased's assets to if there was no will at the time of death (intestate).
Others who were financially dependent on the deceased, including the putative spouse, children of the putative spouse, stepchildren or parents. "Putative spouse" means the surviving spouse of a void (ended or annulled) or voidable marriage who is found by the court to have believed in good faith that the marriage to the deceased was valid.
Any other minor (under age 18) who lived with the deceased for the 180 days prior to death and was dependent on the decedent for one-half or more of the minor's financial support.
In addition, if your loved one did not die immediately from his or her injuries, we can help you pursue what is known as a "survival action." This is technically a claim on behalf of a deceased person's estate that asks for compensation he or she might have sought in a personal injury claim had he or she survived.
Harker Injury Law can assist and advise you about your eligibility to pursue a claim after a tragic accident. If you are unsure whether you have standing in a loved one's death, please contact us in San Diego for answers to your questions at no charge.
Seeking Compensation in a California Wrongful Death Claim
Compensation that may be available in a wrongful death or survival claim includes money (damages) for economic losses and non-economic losses.
In a California wrongful death claim, compensation may include damages for:
Funeral and burial expenses
Anticipated financial support the defendant would have contributed to the family, such as for mortgage payments or a child's or spouse's college education
Gifts or benefits you would have expected to receive from the deceased
The reasonable value of household services the deceased would have provided
Loss of the deceased's love, companionship, comfort, care, assistance, protection, affection, society or moral support
Loss of the enjoyment of sexual relations (for a spouse)
Loss of the deceased's training and guidance (for children, grandchildren or minors in the household)
A survival claim, which is based on efforts to treat and save the deceased following the incident that proved fatal, would seek:
Medical expenses for treatment of the injury or illness
Lost income, including unrealized earnings the deceased person would reasonably have been expected have earned had he or she lived.
Damage to personal property, such as in a car accident
Compensation for the deceased's pain and suffering
To develop a claim (wrongful death and/or a survival action) we would fully investigate the circumstances of your loved one's death and determine who was responsible for what happened. We will then develop a full accounting of your family's and the estate's financial losses, and identify all applicable insurance coverage to file claims against.
We seek maximum compensation for wrongful death claims based on carefully prepared cases and aggressive negotiations.
While we can and will enumerate your economic loses in insurance claims, it is less concrete when we seek to calculate noneconomic damages (loss of love, companionship, comfort, care, etc., and the deceased's pain and suffering). This will require taking to you and your family, close friends, colleagues or others who know you and your family. How well we can depict your loss in negotiations or in front of a jury helps to determine the amount non-economic damages awarded.
Additionally, in cases where there is "clear and convincing evidence" of fraudulent, oppressive or malicious behavior, a jury may also award punitive damages. This happens in extreme cases, but when evidence shows it is warranted, we seek this additional compensation in negotiations or at trial, as well.
Overall, our goal for you is to ensure that you and your family have no lasting debt related to the loss of your loved one and that, moving forward, your financial stability is as good as or better than it would have been had this tragedy never happened.
Get Answers About a Loved One's Questionable Death in San Diego
We have found that in many cases, our clients get the most satisfaction out of the answers we can provide after investigating an unexpected and unjust death. As an independent law firm, we can devote the time to investigating an accident that law enforcement organizations in the San Diego area simply cannot.
You deserve answers. We will not lead you on. We pursue wrongful death cases to obtain compensation, which we share in as our fee. We do not charge to investigate a promising case, and we accept a fee only if we obtain a negotiated settlement, which our client must agree to accept, or a jury award.
We cannot pursue all cases, but we have to have the facts to decide whether to proceed or reluctantly withdraw. Regardless of how far we can take your case, you will have the benefit of the answers we find, as well as all other assistance we can provide you.
Ask Harker Injury Law in San Diego About a Wrongful Death Claim
If you are dealing with the death of a loved that someone else caused, please contact Harker Injury Law in San Diego. We pledge to take your questions and concerns seriously and work to address them with compassion and the dignity you deserve. If a claim for compensation is possible, we will pour everything we have into seeking the best possible outcome for you.
If you are in San Diego, El Cajon, Escondido, Riverside, or the surrounding area, contact our law firm to schedule a free consultation today.