San Diego Pedestrian Accident Lawyer Serving Riverside & Escondido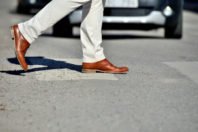 San Diego Pedestrian Accident Attorneys
Personally Committed to Your Physical and Financial Recovery
If you have been hit by a car and injured, you likely have many questions. You may wonder how and why this has happened. You are also likely concerned about your future. How will you pay your medical bills? When will you be able to return to work and your life? Will life ever be the same?
After a pedestrian accident in the San Diego and El Cajon areas of Southern California, Harker Injury Law can help you answer these and other important questions. Our personal injury law team has friends and family who have suffered devastating accidental injuries. We know and care about what you are going through with recovery from injuries, and as you deal with insurance you thought would be a source of help.
If you have been injured in a pedestrian accident — hit by a car, truck or other motor vehicle while not in or on a vehicle yourself — Harker Injury Law is prepared to take up your case. We'll fight for the compensation you deserve for your injuries and losses. We'll seek all the compensation you deserve, from all parties that may owe you, for your medical bills, lost income and more.
Contact Harker Injury Law today for a free discussion of how we can help you. Our cases are about people, not profits. We'll fight to make your financial future right.
San Diego Among Most Dangerous for Pedestrian Accidents
The California Office for Traffic Safety said nearly 25 percent of all roadways deaths in the state were pedestrians killed on California roadways.
Recent reports have said San Diego ranks among the nation's top 10 for the number of fatal pedestrian accidents, and suggested that street and intersection design, as well police enforcement priorities, contribute to the problem.
Between 2001 and 2015, more than 8,000 pedestrians were injured in collisions on San Diego streets, and 270 pedestrians were killed, according to city officials. With 66 pedestrian deaths from 2013 to 2015, more pedestrians were killed in San Diego than any other type of roadway user.
The City found that five types of driver errors / traffic violation caused nearly half of pedestrian fatalities and serious injuries. They were:
Driver's failure to yield the right-of-way to pedestrian
Driver's failure to exercise due care for safety of pedestrian
Unsafe backing and starting
Improper turn
Violation of traffic signals and signs
According to the City of San Diego report:
Compared to traffic collisions, pedestrian collisions are much more likely to result in severe injuries, pain and suffering, long-term disabilities, or death. In addition, pedestrian collisions result in substantial economic costs, including medical expenses, lost workplace productivity [and lost earnings by the accident victim], emergency response costs, and legal expenses, in addition to lost quality of life resulting from disabling injuries and fatalities.
The City's audit also said:
Police issued too few citations for the number of drivers involved in pedestrian accidents.
Many intersections with the most frequent pedestrian collisions, injuries and fatalities were older and had not been modernized to improve pedestrian safety.
There were many steps the city could take to improve safety.
While City leaders work to combat the number of pedestrian accidents in San Diego, those who are injured or who lose loved ones to negligent drivers or other forms of negligence deserve assistance, as well.
Bronson Harker and Harker Injury Law provide that assistance in San Diego, as well as in the El Cajon, Escondido, and Riverside areas of Southern California. If someone else caused your or your loved one's pedestrian accident, we can help you seek compensation for your medical bills, lost wages, pain and suffering, and more.
Investigating Pedestrian Accidents and Seeking Compensation
If you or a loved one has been badly injured in a pedestrian accident, you should get legal help from an experienced California pedestrian accident attorney as soon as possible. With a prompt response, Harker Injury Law can begin quickly to gather evidence necessary to pursue compensation for you.
To start, we will meet with you to review the circumstances of your accident, the extent of your injuries, and the potential for a claim to result in compensation for you. If you were not at fault for the accident, it's possible the parties at-fault can be held accountable and compelled to compensate you.
If others were with you when your accident happened, we will get witness statements from them, as well as your statements. We will also seek out the driver that hit you and any other witnesses we can identify.
Increasingly, we can locate video camera footage of accidents that occur in urbanized areas, which can prove invaluable to an insurance claim.
We can also seek a variety of other evidence to demonstrate how or why the accident happened:
The police report from your pedestrian accident, which may include a charge against the driver.
Accident scene evidence (skid marks or lack thereof, victim drag marks, visibility issues, traffic control devices, etc.).
The driver's vehicle damage (dented hood, broken windshield, etc.), which illustrates speed at impact.
Damage to your clothing, shoes, jewelry, personal belongings, etc., which may also illustrate speed and force of vehicle impact.
Your medical records, which may show injuries, such as head and traumatic brain injuries; soft tissue injuries (contusions, abrasions, lacerations, degloving); torn knee ligaments; long-bone fractures (tibia, fibula and femur); hip, pelvis and/or rib fractures; and/or internal organ damage.
Driver cell phone records, which may indicate distracted driving activity at the time of the crash.
Social media accounts, in which negligent drivers sometimes incriminate themselves after causing accidents.
After identifying who should be held liable for your accident and injuries, we will continue our work to:
Calculate your losses. We seek compensation for past, present and future losses suffered in pedestrian accidents. Independent medical professionals we regularly work with can analyze your medical records and recovery prognosis to project anticipated medical needs. We also calculate lost income, including losses if your injuries lead to diminished earnings. We will talk to you about recording your experiences as you go through medical treatment and recovery to show your pain and suffering, which is also compensable.
Manage your insurance claim. We will take the burden of dealing with insurers off your shoulders so you may focus on recovery. We will identify all insurance coverage held by parties responsible for your accident, and file all possible claims for full compensation to you. If insurers fail to make full and prompt payment, we file personal injury lawsuits to demanding compensation, and ask the court to order payment.
Negotiate aggressively, and go to court if necessary. We will push insurers to provide full payment of your claim. Most personal injury claims can be settled outside of court. If we cannot obtain an appropriate settlement, we will go to court ready to present a solid and persuasive case before the jury.
Serve as your attentive legal representatives. With Bronson Harker as your attorney, you have 24/7 access to the Harker Injury Law team by text or phone call. Your legal team will make sure you are updated on the status of your case and that your questions and concerns are answered. We will make sure we are up to date, as well, on your medical treatment and recovery, and whether there is more we can do to assist you. We can also send "letters of representation" to your creditors to advise them that Harker Injury Law is pursuing a legal claim on your behalf, and that payment is pending.
Before you agree to anything proposed or presented by any insurance company after a pedestrian accident, contact Bronson Harker at Harker Injury Law in San Diego.
Insurance adjusters who contact you after an accident and injuries have no obligation to treat you fairly. Their only obligation is to their employer's bottom line. They work to pay as little as possible for claims like yours.
Harker Injury Law will develop an insurance claim that accounts for all your losses.
Remember, it costs you nothing upfront to seek justice with Harker Injury Law by your side. We pay all investigative and legal costs up front in personal injury cases, and only accept payment as an agreed-upon portion of money we win for you.
We emphasize quality of service, not quantity of cases. We win when you win.
Compensation for Disabilities Suffered in a Pedestrian Accident
It is unavoidable that many pedestrians who are hit by cars and trucks are permanently disabled by their injuries. This makes it necessary to document accident victims' future costs and losses to obtain full and fair compensation.
Ideally, a successful claim should leave you without debt or financial hardships in the future, regardless of the extent of your injuries.
Harker Injury Law turns to consultants to ensure claims we file for disabled clients provide a full accounting of the compensation our clients require.
We work with experts to develop life care plans, which document anticipated medical costs required by individuals with catastrophic injuries. A life care plan is customized to provide detailed accounting of multiple needs and their costs over the individual's expected lifespan.
A life care plan may address current and future need for:
Medical care, including tests, exams, treatment, reparative or cosmetic surgery
Rehabilitation, such as physical, occupational and vocational therapy
Psychological assessment and counseling
Medication
Consumable medical products
Adaptive devices (walkers, wheelchairs, communication instruments, etc.), including maintenance and replacement schedules
Prosthetics
Orthotics
Hired transportation assistance or adapted transportation (modified vehicle controls, van with lift, etc.), including maintenance and eventual replacement
Home adaptations (ramps, wider doorways, lavatory renovations, hospital bed, etc.)
Personal and medical assistance in home
Institutional care, if necessary
Family members traumatized by witnessing a pedestrian accident or by a loved one's catastrophic injuries may have compensable needs, as well. For example, the spouse or child of a disabled accident victim may suffer depression or other emotional issues and benefit from psychological counseling.
Disabling injuries also cause loss of income, which we can calculate with the help of financial consultants. Depending on the injured pedestrian's education, training, and employment prior to the accident, lost income may be calculated according to the value of:
Salary, including unrealized COLA and merit raises.
Salary or wage increases that would have been realized due to anticipated promotion or other career advancement.
Fringe benefits, including insurance, retirement plan contributions and other tax-deferred payments, stock options, etc., including unrealized growth of invested funds.
Harker Injury Law has the knowledge, experience and dedication required to go the extra mile on a pedestrian accident claim for you. We want you to have all the compensation available to you, and will fight for every dollar you deserve.
Harker Injury Law also has a track record of holding individuals and other entities accountable when their negligence has left our clients seriously injured. We never back down from negligent defendants and their insurers. We'll fight for you.
Contact Our San Diego Pedestrian Accident Lawyers
If you or a loved one has been seriously injured in a pedestrian accident – hit by a car, truck, motorcycle or another motor vehicle while walking, running, standing, etc., in or alongside a roadway — Harker Injury Law will fight to make things right financially for you and your family. We work with individuals and families injured by others' negligence from throughout the San Diego, El Cajon, Escondido and Riverside areas of Southern California.
San Diego attorney Bronson Harker fights aggressively to go after the compensation each client needs to move forward after a catastrophic accident. The Harker Injury Law team has the resources and skill necessary to fight insurance companies that seek only to protect their own profit-margins. We know serious injury and its long-term effects. We will always put your best interests first.
We provide legal services on a contingency-fee basis. We'll investigate your accident and pursue the maximum compensation available to you without charge unless and until we recover a payment to you.
Contact us now for a free initial legal consultation about pursuing compensation for you.