Distracted Driving Accidents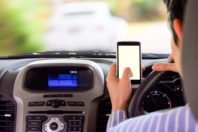 San Diego Distracted Driving Accident Attorney
Distracted driving is a leading cause of car accidents in San Diego and all of California, despite one of the nation's strictest driver cellphone use laws and widespread knowledge of the danger.
If you have been seriously injured in a car accident caused by a distracted driver, you may be able to obtain compensation for your medical bills, car repair expenses, lost income and more. In San Diego, Harker Injury Law can pursue a claim for the compensation you deserve while you focus on recovering from your injuries.
At Harker Injury Law, we have seen how insurance companies put profits before the needs of people injured in accidents. We have had friends and family members suffer life-altering car accident injuries. This has made us very protective of our clients and determined to see to it that insurance companies do what's right for those facing financial harm on top of car accident injuries.
Contact Harker Injury Law today for a free, no obligation initial consultation about a potential distracted driving accident claim. We understand the financial pressures many of our clients are under. We pay all upfront costs to investigate accidents and file claims, and we charge clients only if and when we recover compensation for them.
Don't let an insurance company take advantage of you while you are dealing with car accident injuries and loss. Let Harker Injury Law take up the fight for you.
Did Distracted Driving Cause the Car Accident You Were In?
Distracted driving is engaging in any activity while behind the wheel that takes the driver's attention away from the task of safely operating the motor vehicle. Activities, objects, people or events inside or outside of the vehicle may distract a driver.
Distracted driving accidents are likely to cause serious injury or death because they tend to happen at high speed. A distracted driver is more likely to fail to recognize oncoming danger soon enough to avoid it by braking or swerving.
In other cases, the distracted driver drifts off the road, is startled, and overcorrects to run back onto the road and into a collision.
Distracted driving accidents are commonly caused by:
Texting while driving
Using a cellphone or smartphone
Operating other electronics, including tablets, car GPS systems, etc.
Adjusting vehicle controls (climate controls, mirrors, radio, seat, etc.)
Eating and drinking
Talking to passengers
Attending to children or pets
Grooming (putting on makeup, combing or brushing hair, etc.)
Reading, including looking at maps.
In 2017, California enacted one of the nation's strongest laws meant to fight distracted driving by prohibiting drivers from holding a cellphone for any reason while behind the wheel. But drivers are allowed to mount a phone on the dashboard or windshield, and touch it with a single swipe or tap to activate or deactivate a feature or function.
Tapping and swiping still require mental and physical activity — including looking at a screen — which is diverted from the task of driving.
Meanwhile, national studies suggest that some form of distracted driving is a factor in 80 percent of crashes and 65 percent of near-crashes.
In short, the California driver who caused your car accident may well have been distracted by a cellphone or any number of other objects, events or activities while driving.
Finding Evidence of Distracted Driving in the Accident That Injured You
Unfortunately, we have become well acquainted with distracted driving accidents and the damage they do in San Diego and Southern California. But the upside is that, if you contact Harker Injury Law promptly after a car accident, we can begin to gather evidence that could help to identify distracted driving as the cause, and allow us to hold the driver liable for your injuries.
Evidence of distracted driving in a car accident may include:
Extensive vehicle damage and catastrophic injury, indicting little or no braking or swerving to avoid the crash.
Lack of skid marks, which indicates failure to brake.
Fresh food or drink spills, wrappers or containers in the crashed vehicle, which may indicate eating and drinking — another very frequent driver distraction.
A teenage or young adult driver, who is more likely to use a phone or other personal electronics or to engage in other types of distracted driving.
Once we suspect distracted driving, we can seek additional evidence to help build a case, such as the driver's cellphone records, which could indicate activity at the time of the crash; records or receipts stamped with time and date, indicating food or drink purchases prior to the crash; social media posts, which sometimes provide incriminating information; etc.
The other driver's car may be equipped with an event data recorder (EDR), which records data from moments before the impact of a crash. An EDR download can identify engine speed and changes in speed, use of brakes, steering trajectory, the number of impacts in the crash, and more. Evidence from the EDR might point to distraction as a probable crash factor and help to build the case for compensation to you.
If you have been in an accident, we urge you to contact us as soon as you can so we can begin our investigative work in your case. Once you engage Harker Injury Law to represent you, we can seek to have the other driver's damaged vehicle, cellphone records and other evidence preserved and made available to us if needed.
What Do You Deserve in a Distracted Driving Claim?
Our legal work for you will consist of developing a complete picture of your car accident, who should be held accountable, and what appropriate compensation to you consists of.
To create this picture, we want to thoroughly document your medical needs and their costs up to now and into the future. This includes any ongoing pain and suffering this accident may cause you.
Our personal injury team will build a strong distracted driving accident claim for you by launching an immediate investigation into the crash. We will assess all the losses you have suffered and are likely to face in the future.
With this information, we can negotiate for full and fair compensation to you. This may include payment for:
All medical bills, including for ER visits, follow-up doctor appointments, medication, and any assistive mobility devices you may need, from crutches to a wheelchair, etc.
Estimated costs of future medical needs due to your injuries.
Your vehicle's damage, including any reduction in resale value, or replacement cost.
Lost wages, including payment for vacation days or sick time you have had to take.
Reduced future earning capacity due to your injuries.
Your pain and suffering, both physical and emotional.
You may have already heard from your insurance company or an insurance adjuster from the other driver's insurance company. They may have already offered you a settlement.
Unfortunately, insurance companies don't stay in business by paying what their policies promise for every claim. In fact, insurance adjusters work hard to pay as little as possible, or nothing at all.
Insurers can be ruthless when it comes to using the complexity of insurance law and the language in insurance policies to minimize payouts or deny injury claims. After suffering serious — expensive — injuries and losses in an accident, you need to be very wary of insurance company offers or directives, and even what you say to an insurance company representative.
A quick settlement offer from an insurance company will invariably be for too little.
Before anyone can understand your true costs and losses, your doctor will need time to evaluate and treat your injuries. It is also important to get a realistic prognosis for how your injuries will affect you into the future.
If you have suffered disabling injuries, we will document your anticipated medical costs. To do so, we work with life care planning consultants. A life care plan is a customized accounting of your anticipated medical needs and their costs over the course of your expected lifespan with a disability.
We also work with financial planners to calculate your income loss as you recover, and into the future if your earning capacity has been diminished by disabling injuries.
A successful personal injury claim ensures that you do not have lingering debt or future financial problems related to your accident and injuries. It also compensates you for pain and suffering you have been needlessly put through.
If you cannot say without a doubt that the insurance company has offered you a settlement that ensures this level of financial stability, you should contact Harker Injury Law in San Diego now and reject anything insurers suggest.
Put an Aggressive Personal Injury Lawyer in Your Corner
If you have suffered serious injury in a car accident possibly caused by distracted driving, you need an experienced personal injury attorney with the resources to investigate and stand up to insurance companies. Bronson Harker and Harker Injury Law are prepared to establish a solid accident claim and aggressively push insurers to provide full payment to you.
Our dedicated legal team will fight to make you financially whole again after a distracted driving accident. We become personally vested in each case we handle, and are driven by compassion for our clients' welfare.
Whether your car accident occurred in San Diego, El Cajon, Escondido, Riverside, or the surrounding areas, Harker Injury Law is here to help. Schedule a free consultation today to talk about how well we are prepared to fight for you.