Back Injury from San Diego Car Accidents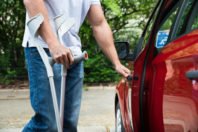 Back & Spinal Cord Injuries From Car Accidents in San Diego
A spinal cord injury suffered in a car accident is often life-altering. Damage to the back and spinal cord can cause paralysis, which requires lifelong medical care and assistance at a cost of millions of dollars over the victim's lifetime. Even a back injury that does not cause paralysis can lead to chronic, debilitating pain and significant income loss.
If you have suffered a significant back or spinal cord injury in a car accident in the San Diego area that was someone else's fault, Harker Injury Law can help you in difficult days ahead. As you consider a changed life, we can make sure the stress of mounting medical bills and pursuing a car accident claim is not a part of your burden.
Harker Injury Law in San Diego works to recover compensation from insurance companies that would otherwise deny or shortchange accident victims who have legitimate claims. Bronson Harker provides one-on-one attention and aggressive representation to victims of car accidents that have left them with serious back and spinal cord injuries. We can help you recover money for medical bills, lost income, your pain and suffering, and more.
Bronson and others at Harker Injury Law have friends and family who have suffered life-altering injuries in car crashes. This has made us very protective of clients and increased our determination to ensure that insurance companies act responsibly.
Contact Harker Injury Law in San Diego, Escondido or Riverside today for a free, no obligation legal consultation about a claim for compensation you deserve.
The Cost of Back and Spinal Cord Injuries in Car Accidents
The spinal cord runs the length of your back and is key to the body's central nervous system. It connects your brain to the rest of your body, allowing sensation and function. The bones (vertebrae), muscles and other soft tissue of the back support your mobility.
Any injury to the back or spinal cord can be devastating. Back injuries, which most commonly affect the lower back, can cause pain that limits mobility. Damage to the spinal cord that is described as an incomplete injury causes partial loss of sensation and movement. A complete spinal cord injury causes paralysis.
Back and spinal cord injuries are typically caused by a blow to the back or sudden awkward movement, such as being slammed against the structure of a vehicle or other objects in a car accident or being violently shaken or jostled in a collision.
The National Spinal Cord Injury Statistical Center (NSCISC) says motor vehicle accidents are the leading cause of injury leading to paralysis, followed by falls, acts of violence (primarily gunshot wounds), and sports/recreation activities.
Paralysis is known as paraplegia when it affects all or part of the legs and/or pelvic organs. Tetraplegia (sometimes called quadriplegia) is a cervical (neck) spinal cord injury causing paralysis of the shoulders, arms, hands, trunk, legs and pelvic organs. There is no cure for paralysis.
Lower back pain is a leading contributor to missed work days, the National Institute for Neurological Disorders and Stroke (NINDS) says. Lower back pain also affects the individual's ability to perform daily life activities.
About 20 percent of people affected by acute (short-term) lower back pain develop chronic lower back pain, the NINDS says. In some cases, treatment successfully relieves chronic low back pain, but in other cases pain persists despite medical and surgical treatment.
Serious back injuries may be treated with surgery, which is notorious for being risky and potentially ineffective for relieving pain.
Obtaining Compensation for Back or Spinal Cord Injury in a Car Accident
If a car accident has left you with a back or spinal cord injury, your doctors may have already discussed the seriousness of the injury with you and what you may expect in the future. You are fortunate that advanced medical and rehabilitative services for patients with serious back and spinal cord injuries are available in the San Diego area.
However, a person living with paralysis or chronic back pain faces loss, potentially tremendous expenses and the need for care for the rest of their life.
Harker Injury Law can seek the maximum compensation available to you through claims against the driver and any other party responsible for the car accident that caused your injuries.
A car accident claim may seek compensation for:
All medical expenses, including hospitalization, surgery, medication, rehabilitation therapy, in-home nursing care, etc.
Lost income, including repayment for leave allowed by an employer and compensation to make up for future losses if you cannot return to the same or any work.
Damage to your vehicle, including repairs, reduced resale value or replacement costs.
Your physical and emotional pain and suffering.
We are ready to develop a case that documents all losses you have suffered and are likely to face in the future, and negotiate aggressively with insurers to compel them to meet their financial obligations to you. If negotiations are not successful, we will be prepared to go to court.
Ultimately, we will seek to ensure that you do not have debt or financial hardships in the future because of the car accident, regardless of the extent of your injuries.
To ensure that claims for disabled clients provide a full accounting of the compensation necessary to ensure their financial stability, we may consult outside experts.
Life care planners document the anticipated medical needs of individuals with catastrophic injuries, like paralysis, and the costs of such care and assistance. A life care plan details current and future needs that may include, but are not necessarily limited to:
Medical care, including tests, examinations, treatment, etc.
Rehabilitation, such as physical, vocational and/or occupational therapy
Psychological assessment and counseling
Medication
Consumable medical products
Adaptive devices (walkers, wheelchairs, hospital bed, communication instruments, etc.)
Adaptations to the home (ramps, wider doorways, lavatory renovations, etc.)
Adapted transportation (modified vehicle controls, van with lift, etc.) or hired transportation assistance
Personal and medical assistance in the home
Institutional care
Financial consultants can help us document the income loss a person with paralysis or chronic back pain will face. The individual's education and training and employment prior to the accident may be considered to calculate lost:
Wages, including anticipated COLA and/or merit raises
Wage increases due to likely promotions or career advancement
Fringe benefits value, such as from health or life insurance, retirement plan contributions and additional tax-deferred payments, stock options, etc., plus the unrealized growth of investments
It is also proper to seek compensation for the needs of family members who have been traumatized by witnessing a loved one's catastrophic injuries or who lose a disabled person's companionship. This may include the cost of counseling sought by the spouse or child of a disabled accident victim. In addition, California personal injury law specifies the availability of pain and suffering compensation for emotional distress and the loss of spousal companionship and services.
Harker Injury Law stops insurance companies from mistreating car accident victims like you. We are prepared to develop a complete and comprehensive car accident claim and fight to recover all compensation available to you.
Our firm has a track record of holding at-fault drivers and other parties accountable to the seriously injured victims of motor vehicle accidents. We understand what you are going through, and how insurance companies focused on profits before people make matters worse.
Your Personal Injury Attorney, Dedicated to Your Recovery
As your personal injury lawyer in a car accident claim, Harker Injury Law will work to compel the at-fault driver's insurance company to meet its legal obligation to you. We will file claims against any additional parties liable for their part in your accident and injuries, as well.
We will develop a case that documents what happened to you, which parties are responsible, your costs and losses, and what amount of compensation is necessary to make you financially whole. We will push insurance companies aggressively to make maximum payment to you as promised by applicable coverage they have issued.
We will also:
Fully manage your personal injury claim so you may focus on your and your family's needs.
Respond promptly to your questions, by call or texts, including at night and over weekends.
Ensure that you are regularly updated on the status of your claim as it moves forward.
Ensure that you speak with your attorney about legal matters, not with an assistant or a paralegal.
Prepare a letter of representation, which we will send to creditors hounding you to explain that we are pursuing a legal claims on your behalf and they can expect payment.
Keep up with you and your doctor appointments so we always know how you are doing and whether we can do more to help you.
Assist you on a contingency-fee basis. Our fee for services to you will be contingent on our success in recovering money for you. If we do not obtain money for you in a negotiated settlement or court award, we will not expect payment from you. When we do recover money for you, nothing will come out of your pocket. We will retain a previously agreed-upon percentage of the final amount we recover as our fee. You will face no financial risk as we investigate, compile evidence and file and pursue one or more claims for you.
In most cases, we are able to settle personal injury claims without having to go to court. Whether to accept a negotiated settlement is always up to the client. When insurers refuse to offer appropriate settlements, we have already developed a solid and persuasive case to present before a judge and jury.
Contact a Compassionate Back & Spinal Cord Injury Lawyer Today
If you have suffered a back or spinal cord injury in a car accident, you likely face steep and lasting financial loss, as well as your pain and suffering. Harker Injury Law in San Diego provides aggressive legal representation to those injured by others in car accidents. We have extensive experience and a track record of successfully compelling insurers to make full payments in car accident claims.
Harker Injury Law our law firm wants is here to help, whether your car accident happened in San Diego, El Cajon, Escondido, Riverside or a surrounding community. We have seen too many insurance companies put profits ahead of people after serious car accidents. Bronson Harker and the entire Harker Injury Law team become personally vested in every case we handle, and are driven by compassion for our clients.
Contact us today to schedule a free consultation about your car accident injuries and how we will fight for compensation to you.