San Diego Premises Liability Lawyer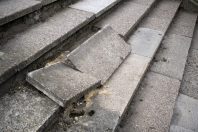 If you sustained serious injuries on public or private property, you may be able to file a premises liability claim in San Diego, CA. Various accidents may necessitate a premises liability case, such as slip-and-falls, trip-and-falls, dog bites, amusement park accidents, and even accidents at someone's home.
If you were injured because the property owner didn't provide adequate protective measures, you can pursue your rights. You may be able to seek damages for your injuries by filing a personal injury claim or lawsuit in San Diego. Your situation will determine the best approach you can take. 
Harker Injury Law's San Diego premises liability lawyers will help you figure out the best way to recover your losses. We're a justice-driven personal injury law firm in San Diego committed to helping you get the compensation you deserve. Get in touch with us for a free case evaluation today.
Call 760-INJURED or fill this contact form to speak to one of our experienced San Diego premises liability attorneys.
Why You Need to Consult a San Diego, CA Premises Liability Law Firm
Premises liability cases are not just technical and complicated; they require the unique skills of experienced personal injury attorneys in San Diego. When you're injured and hospitalized, you need to work with premises liability lawyers who can help you file your injury claims with speed and accuracy.
Trying to file a claim by yourself is not only stressful, but you may also end up making mistakes that will lead to the denial of your claim. On top of that, what if the compensation you receive is not enough to cover your medical bills and other expenses brought on by the accident? 
That's why filing your case alone is so risky. Sometimes, the property owner may not carry adequate insurance. And when the property owner does, the insurance company may be unwilling to pay you what you truly deserve. 
If the property owner's insurance policy limit is insufficient, you'll need to find alternative ways to recover your damages. But no one should be pursuing compensation when it's time to recuperate instead. 
Filing a claim on your own far too stressful, tedious, and frustrating. And to cap it all off, it could be denied due to a flaw in the filing process or a missed deadline.
Don't make a mistake the first time. Instead, let an experienced premises liability lawyer take care of the filing process for you. Harker Injury Law's legal team includes experienced and skilled San Diego premises liability lawyers who are committed to helping you get the most money possible. We get results, period.
If you are seeking legal advice or representation, feel free to contact our premises liability attorneys in San Diego today. Call 760-INJURED or schedule a callback to have your case evaluated.
Why Negligence By San Diego Property Owners is Dangerous
Establishing or leasing a property is not enough. All property owners must do everything they can, within reasonable limits, to remove dangerous hazards and keep the premises safe for everyone who steps foot on the property. There should not even be conditions present that could cause someone to slip and fall.
For example, this means making sure of the following:
No wet floors

No malfunctioning elevators

No debris or barrier in unnecessary places

No chipped staircases

No fire hazards

Adequate fire equipment

Good lighting

No unchained or unsupervised animals

No unsecured rugs or carpeting

No objects that may fall on people

A property owner's unwillingness to put safety protocols in place could lead to accidents on any property. Senior citizens older than 65, for example, are more likely to slip and fall if the floor is wet. 
Older ones may also trip and fall because of unsecured carpeting or obstacles on the floor. Falls are the leading cause of unintentional injury and emergency hospital visits among elderly citizens. 
Because of the frail nature of many elderly citizens, a fall may result in severe injuries like broken bones, traumatic brain injuries, and death. Property owners who are liable for putting people in dangerous situations leading to accidents and personal injuries should pay for their negligence. 
If you or a loved one was injured on someone else's property because of a slip-and-fall or another incident, you deserve to be compensated. Contact our law office at 760-INJURED to discuss your options.
Steps to Take After Getting Injured on a San Diego Property
What you do right after the incident can play a big role in the outcome of your premises liability case. You need to take the right steps or risk having your claim denied or the personal injury lawsuit thrown out.
Here's a list of the things you need to do immediately after being injured on another property.
Start by seeking medical help
Do this even if you feel that your injuries are mild. Sometimes, the extent of injuries caused by falls is not evident until weeks or months later.
2) Record the scene of the incident
If you're able, record the scene of the accident with your phone immediately. This is imperative, as pieces of evidence tend to degenerate with time. It's also possible that the cause of your accident might be fixed or repaired. Take pictures and videos to document the state of the scene at the time of your injury. You will need this later on.
3) Get contact information from witnesses
If there are witnesses on the scene at the time of the accident, collect evidence from them if possible. Videos and pictures taken from other angles may help corroborate or validate your claim. At the very least, make sure to get their contact information.
4) File an incident and a police report
The law is particular about official documents. Start by filing an incident report with the security personnel or property supervisor in charge at the time of the incident. Then file a police report, which serves as an official account of the incident that the insurance companies and courts will recognize.
5) Talk to a qualified legal professional 
Insurance companies are known for their tendency to pressure you to sign documents or speak to their adjusters without any experienced legal professional. If you do sign, chances are you'll be cornered into accepting an offer that's considerably lower than you can get. 
You don't want this — you want the maximum offer possible. Talk to one of our premises liability attorneys at Harker Injury Law before making any definitive moves.
If you follow the steps above, you'll be much more likely to receive maximum compensation from your claim or lawsuit, which is only fair. If you or a loved one sustained a serious injury because the property was poorly maintained, you deserve to be compensated.
Come talk to us if you'd like to learn more about what to do. Call 760-INJURED to speak to an experienced San Diego attorney today.
Factors Affecting Your Compensation in a San Diego Premises Liability Case
The amount you'll receive as compensation depends on certain key factors that the insurance companies and/or the court will consider if the case goes to trial.
Some of these factors are as follows:
The severity of your injuries

Lost wages or income

The lingering effects of the injuries you sustained

The possibility of the negligence being intentional

Emotional distress or post-traumatic stress disorder

Your role in the accident

What you told or discussed with the insurance adjuster

Whether you posted your accident on social media or not

Whether you sought medical treatment immediately after the accident

One major factor that can affect your claim is your role in the premises liability case. If you share some liability, it may affect the outcome of your case. 
If you're unsure of your next step, the experienced premises liability lawyers in San Diego at Harker Injury Law can help. We can provide you with adequate legal representation.
At Harker Injury Law, we're particular about our clients not speaking to the property owner or his or her insurance provider without an attorney present. Insurance companies can use your recorded statement against you if you have no legal backing.
Let our experienced attorneys help you get the maximum settlement possible. Contact us at 760-INJURED to schedule a free case evaluation today.
Why You Should Hire Harker Injury Law in San Diego, CA 92101
Even though the average premises liability case in California seems pretty straightforward, it isn't. Sometimes, the property owner and his or her insurance company may not acknowledge your claim. 
If the property owner and the insurance company do acknowledge the claim, they may either underpay you or completely deny it. If that happens, you'll need to take the case to trial, and only experienced San Diego trial lawyers can effectively present and fight your case. 
This is why Harker Injury Law can take on your California premises liability cases. We have experience both in out-of-court negotiations and in trials. 
If you come to us with your slip and fall or premises liability case, our attorneys will first evaluate your case to see if it has merit. From there, our attorneys can determine the liable party whose actions injured you, file your case quickly, seek the appropriate damages, and fight until we secure your settlement.
Each attorney on our team is sympathetic to your needs and committed to helping injured clients like you. As a compassionate law firm that treats clients like family, we will fight for you until you get what's yours.
Get in touch with a Harker Injury Law attorney today to discuss your case. Call 760-INJURED to speak to an experienced lawyer or fill this callback form to have an attorney call you.