San Diego Recreational Vehicle Accident Lawyer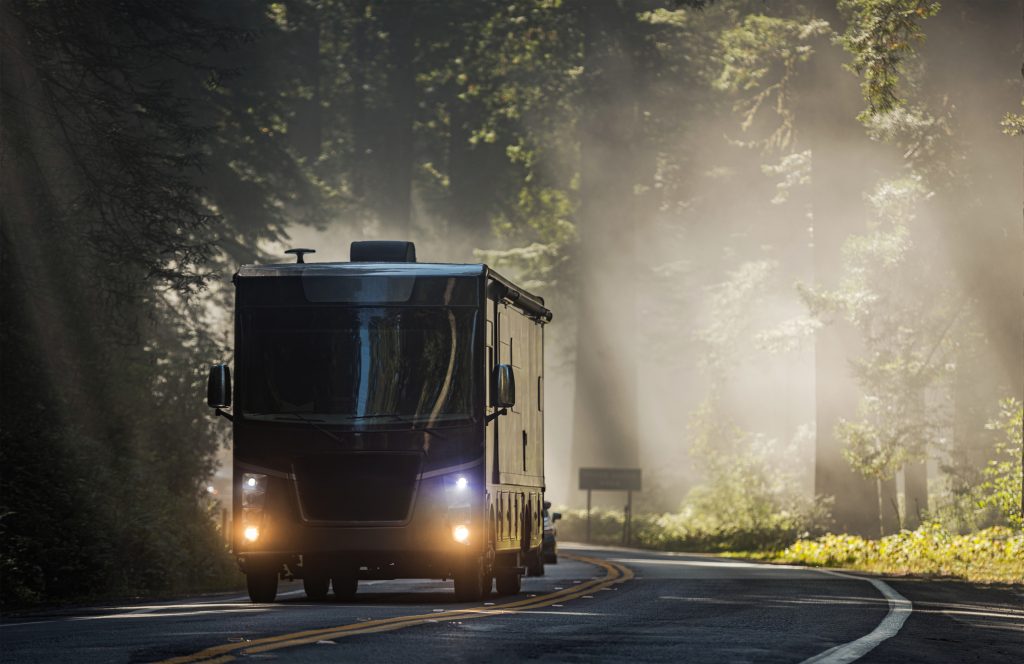 On any given day, you might see dozens of recreational vehicles (RVs) traveling on Interstate 5 from Los Angeles to San Diego, California. RVs include motorhomes, caravans, fifth-wheel trailers, and various types of campers.
For the average person, the sight of an RV might conjure up fun, family vacations. But those who have been injured in accidents with these huge vehicles might only remember pain. In San Diego County, 255 people died in motor vehicle accidents in 2018. Many others experienced devastating injuries and property damage. 
At Harker Injury Law, our personal injury lawyers understand the struggles that San Diego accident victims face. Financial stress will only make your recovery more difficult to bear. 
Our legal team wants to help. To learn how, take advantage of your free case consultation. Please fill out the brief form at the bottom of the page or contact us at 760-533-6979 to speak to an experienced accident attorney.
Why Recreational Vehicles Are Difficult to Drive On San Diego Roads
RVs are bigger and heavier than most vehicles. On average, a motorhome (Class B) is 20 feet long. It weighs between 10,000-20,000 pounds. Some drivers might lack the experience to control such a large vehicle due to various challenges:
Drivers need to pay attention to the height clearances of bridges and low-hanging obstacles. 

An RV handles differently than a passenger vehicle. A safe move for a regular car can end in disaster if a recreational vehicle tips over or swings out of control.

RVs do not stop as quickly as other vehicles, so they need more distance for braking.

Brakes can become overheated or out of alignment, making RVs difficult to slow or stop.

Other drivers might not realize that recreational vehicles are slower than most automobiles. They must give them more space to slow down and climb hills. 

Other drivers might not be able to see as well when traveling alongside or behind an RV. 

Bad weather conditions might pose an extra hazard to RVs. If a recreational vehicle gets stuck in the snow, its weight might make it tricky to move.

Sometimes, RVs tow other motor vehicles. A driver might make poor decisions in traffic if he or she is not used to towing something. Also, not every recreational vehicle can tow the same weight.

So, a driver must make sure the chassis and engine can handle the RV and car's combined weight. 
The age of a driver might also impact his or her ability to handle an RV. Advanced age correlates with some declines in vision, cognitive functioning, and other physical changes that might affect how well an older adult drives a recreational vehicle. According to AARP, about 14 percent of the 10 million American RV owners are 65 or older. 
Because of these considerations, recreational vehicle drivers might need a special license in San Diego County. Our competent accident attorneys can review the driving record and license requirements of the person who caused your injuries. 
Would you benefit from a free legal consultation with a lawyer? Contact our attorneys today to find out if you can claim compensation for your San Diego RV accident.
Why the Causes of RV Accidents Matter in San Diego County
According to California law, reckless or negligent drivers are legally responsible if they cause car accidents. The difference between reckless and negligent drivers is intention. Both might break traffic laws or operate their recreational vehicles in unsafe ways. Yet, reckless drivers act with deliberate disregard for the safety of others.
Distractions
Some causes of distracted RV accidents might be:
Using electronic devices, such as smartphones and GPS

Reaching for something inside the vehicle (e.g. dials, mirrors, telephones)

Looking at something outside of the vehicle (e.g. construction work, billboards, scenic views) 

Eating

Putting on makeup
One study conducted in the area of Washington DC discovered that distracted driving was involved in 80 percent of vehicle accidents and 65 percent of near-crashes. San Diego motor vehicle accidents involving controlled substances have also injured many people in recent years.
The influence of drugs or alcohol 
In San Diego, CA, the maximum legal blood alcohol level is 0.08 percent. Meanwhile, underage drivers, commercial drivers, and drivers with restricted licenses have lower limits. 
Speeding 
San Diego, Los Angeles, and surrounding cities are connected by busy highways, such as I-5, I-15, and I-580. The posted speed limits vary between 70 and 55 mph. Recreational vehicles towing trailers should never go faster than 55 mph. 
At Harker Injury Law, our knowledgeable personal injury attorneys know the local traffic laws and how they may influence your case. It is illegal to drive faster than what is safe for conditions — regardless of the posted speed limit. 
After a vehicle accident, lawyers may examine:
How many other motor vehicles were on the road 

The flow of traffic

Road conditions (i.e. wet, dry, wide, narrow, graveled, etc.)

Weather conditions

If it was a blind intersection (no stop signs at any corner and your view is limited)

Nearness to railroad tracks, streetcars, or school zones
Our San Diego office is located at 501 W. Broadway. Contact us in person or fill out the convenient online form to speak to an accident attorney regarding your free case review. A personal injury lawyer will determine if your recreational vehicle accident injuries are eligible for compensation and inform you of your rights.
What Damages You Might Anticipate For California RV Accidents Involving Serious Injuries
An RV accident with a recreational vehicle can cause catastrophic injuries, including spinal cord damage and traumatic brain injuries. What damages can an attorney pursue if you or a loved one was injured in an accident?
Medical bills 
Emergency transport, surgeries, and long stays in San Diego hospitals — expenses seem to multiply fast after accidents. If our lawyers win your personal injury case, you can be reimbursed for medical bills related to your motor vehicle accident injuries.
You can also recover damages for future treatment and rehabilitation-related injuries. For instance, if you need additional surgeries, household services, or nursing care, our attorneys can include these necessary expenses in your requested settlement.
Lost income
During your recovery, you might not be able to work. A qualified accident attorney can calculate your lost wages to ensure that insurance companies do not offer you less than you deserve. 
When accidents prevent our clients from returning to work, our law group of experienced lawyers can pursue damages for loss of earning capacity. These damages will take into account the money you could have earned if you had not been in an accident with a recreational vehicle.
Pain and suffering
If you suffer mental, emotional, or physical pain after your accident, our accident lawyers can petition for these damages in a lawsuit. Whether you receive compensation and how much depends on the trial jury.
You Cannot Afford to Miss Your Free Case Review 
If you decide to hire an attorney, you pay nothing upfront. After your law case concludes, our law group will receive a contingency fee (a percentage of the money awarded to you.) 
Our law firm believes that every case is important — no matter how small. Often, we can settle cases without ever going to trial. Please do not hesitate to contact our compassionate accident attorneys.
Why take the chance of missing out on maximum compensation? During your free case review, we will give you legal advice without obligation. Schedule an appointment to discuss your San Diego recreational vehicle accident today.