Brain Injury from San Diego Car Accidents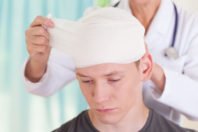 Head & Brain Injuries From Car Accidents in San Diego
Hitting your head in a car accident can cause serious injuries, including brain damage that could lead to permanent physical and mental deficits. A traumatic brain injury (TBI) in a car crash is potentially one of the most devastating injuries a person can sustain.
If a car accident in the San Diego area that someone else caused has left you with a head or serious brain injury (a TBI), Harker Injury Law can help you. We understand your pain and suffering, as well as the extensive medical expenses and other losses you face. We also know that you deserve compensation beyond what auto insurers are likely to offer you on their own.
Bronson Harker and Harker Injury Law stop insurance companies from mistreating car accident victims like you in the San Diego area. We have seen friends and family members struggle with car accident injuries that changed their lives. This has made us very protective of our clients.
Insurance companies know that people who have been seriously injured, and their families, don't understand what's ahead and are vulnerable. But we have been there. We won't let the insurance companies take advantage of you after an accident that causes TBI or other serious head injuries.
Contact Harker Injury Law in San Diego, Escondido or Riverside today for a free, no-obligation initial consultation. We'll explain how we can help you recover proper compensation in a car accident that has caused a head or brain injury.
We're here to help. Contact us today.
How Is the Brain Injured in a Car Accident?
Any direct blow, violent jolt or penetration of the head can cause bruising of the brain and damage to the brain's ability to function correctly. Trauma of all sorts can lead to tearing in the brain's internal lining, blood vessels and tissue, which can cause internal bleeding, bruising and swelling of the brain.
In a car accident, a head injury typically occurs when a driver or passenger is slammed against the dashboard, steering wheel, windshield, back of a seat, side panels, etc.
In some crashes, a vehicle occupant is ejected from the car and hits their head. In other accidents, a piece of cargo or debris sent flying by the impact of a collision strikes a person's head.
Physical injury to the brain from nonsurgical external sources (as opposed to internal disease, infection, etc.) is known as traumatic brain injury, or TBI. Three levels of TBI refer to different degrees of head injury:
Mild TBI: This is also known as a concussion. It is marked by headache and possibly some short-term difficulty with coordination, memory and concentration or judgment. Many people recover from a concussion after a period of rest with no further problems. However, having had one concussion makes a person more susceptible to additional concussions, which can cause cumulative injury.
Moderate TBI: Sometimes a person who has had a concussion continues to suffer symptoms, like headache and slight cognitive problems, for several months or a year or longer. This sometimes referred to as post-concussion syndrome. In addition to ongoing symptoms from the concussion, the injured person may experience anxiety over not recovering as anticipated, which can deepen into depression.
Severe TBI. Severe traumatic brain injury is brain damage that may be permanent and debilitating. A person with severe TBI may suffer deficits in cognitive ability (thought, reasoning, concentration), physical ability (including loss of speech and other motor activity) and lack of emotional or behavioral control (suffer depression, mood swings or uncontrollable outbursts). In the worst cases, a blow or jolt to the head has left the accident victim in a persistently altered state of consciousness, such as vegetative state, minimally responsive state or coma.
Treatment of moderate and severe TBI includes medical treatment of the wound followed by rehabilitation (physical, occupational and vocational) and psychological counseling.
Some victims of severe TBI are totally disabled and can develop degenerative brain disease that leads to a premature death.
Seeking Compensation for Head and Brain Injuries in Car Accidents
If you or your loved one has suffered a TBI in a car accident, you may have already been advised by doctors of the seriousness of the injury and what to expect in the future. You are fortunate to be in the San Diego area, where advanced medical and rehabilitative services for those with serious head injuries is available.
However, these are very costly services, and a person living with severe TBI will potentially need some level of care for the rest of their life.
As your personal injury attorney, Harker Injury Law will work to seek the maximum compensation available to you through claims against the driver and any other parties responsible for your accident.
Proper compensation after a car accident consists of money for:
Existing medical expenses, including the ER visit, follow-up doctor appointments, medications, and all other medical needs and treatment.
Future medical and personal care needs related to the injury, including rehab, counseling, in-home nursing care, etc.
Lost income, including payment for vacation days or sick time you take and compensation to make up for future losses if you cannot return to work.
Damage to your vehicle, including repairs and reduction in the car's resale value, or replacement costs.
Your physical and emotional pain and suffering.
We will account for all losses you have suffered and are likely to face in the future, and push insurers to meet their true obligation to you.
Ultimately, a successful claim would leave you without debt or financial hardships in the future, regardless of the extent of your or your loved one's head and brain injuries.
Harker Injury Law turns to consultants to ensure claims we file for disabled clients provide a full accounting of the compensation our clients require down the road.
We work with life care planners to document anticipated medical costs required by individuals with catastrophic injuries, like severe TBIs. A life care plan provides detailed accounting of multiple needs and their costs over the injured person's expected lifespan.
A life care plan addresses current and future needs that include, but may not be limited to:
Medical care, including tests, examinations, treatment, etc.
Rehabilitation, including physical, occupational and vocational therapy
Psychological assessment and counseling
Medications
Consumable medical products
Adaptive devices (walkers, wheelchairs, communication instruments, etc.), including cost of maintenance and replacement
Hired transportation assistance or adapted transportation (modified vehicle controls, van with lift, etc.), including maintenance and replacement
Home adaptations (ramps, wider doorways, lavatory renovations, hospital bed, etc.)
Personal and medical assistance in the home
Institutional care
Family members traumatized by witnessing a loved one's catastrophic injuries or who suffer from the loss of the injured person's companionship have compensable loss and needs, as well. For example, the spouse or child of a disabled accident victim may suffer emotional issues and benefit from psychological counseling. Pain and suffering compensation in California includes emotional distress and loss of consortium (loss of spousal companionship and services).
Disabling injuries also result in income loss, which we determine with the help of financial consultants. Depending on the individual's education, training and employment prior to the accident, lost income may be calculated according to the value of:
Salary, including anticipated COLA and merit raises.
Salary and wage increases that would have been realized due to anticipated promotion or other career advancement.
Fringe benefits, such as life insurance, retirement plan contributions and other tax-deferred payments, stock options, etc., including unrealized growth from investments.
Harker Injury Law has the knowledge, experience and dedication needed to go the extra mile for you on a car accident claim involving severe TBI. We want you to have all the compensation available to you, and we will fight for every dollar you deserve.
Harker Injury Law has a track record of holding various parties accountable for negligence that has left innocent victims seriously injured after auto accidents. We do not back down from negligent defendants and their insurance companies. We'll fight for the proper compensation for you.
We Are Committed to Your Recovery
Our objective as your attorney in a car accident personal injury claim is to compel the insurance company that has issued coverage to the at-fault driver to meet its legal obligation to you. We will take the same action against any other parties with liability for your accident and injuries.
We will build a case that documents what happened to you and who is responsible, and account for all of your compensable losses. Then we will push aggressively for insurers to make maximum payment as promised in auto liability insurance policies and any other available coverage issued to parties liable for your losses.
Harker Injury Law will also:
Manage your personal injury claim from start to finish and let you focus on your recovery and health instead.
Keep you updated on the status of your claim, and respond to your calls, texts and questions, including at night and during weekends.
Ensure that you talk directly with your attorney about legal matters, not to a paralegal or an assistant.
Contact creditors who seek payments from you on accident-related bills, and advise them of your pending legal claim. A "letter of representation" soothes most creditors.
Keep up with your medical appointments and recovery so we know how you are doing and how else we may help you.
Provide all legal services to you on a contingency-fee basis. This means charges for our services will be contingent on the money we recover for you. If we cannot obtain a monetary settlement or court award for you, you will pay us nothing.
We will proceed with the expectation of recovering a substantial payment to you. If we succeed, we will retain a previously agreed-upon percentage of the final settlement or jury award as our fee. Nothing will come out of your pocket. You can pursue a legal claim with Harker Injury Law at no financial risk to you.
Most personal injury claims are settled outside of court. Accepting a settlement is always the client's decision, and we will advise you of any offer we receive. If we do not obtain an appropriate settlement, we will be ready to present a solid and persuasive case before a judge and jury on your behalf.
Contact Our Compassionate Head and Brain Injury Attorney Today
If you have suffered a traumatic brain injury (TBI) in a car accident, you need the services of an experienced personal injury attorney who will stand up to insurance companies for you. Harker Injury Law in San Diego is an aggressive personal injury firm with a track record of compelling insurers to provide full payments for car accident claims involving catastrophic injury.
Bronson Harker and Harker Injury Law team become personally vested in each accident claim they pursue. They have seen how insurance companies put profits before people, and are driven by compassion for ensuring clients' financial well-being.
Whether you were injured in a car accident in San Diego, El Cajon, Escondido, Riverside, or a nearby community, Harker Injury Law our law firm is ready to help. Set up a free consultation today to talk about your car accident injuries and the fight for compensation we will wage to you.