Motorcycle Accident Compensation: What You Need to Know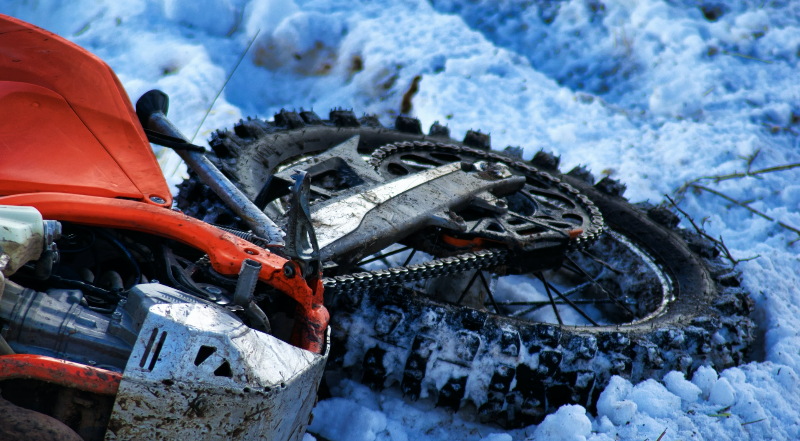 A motorcycle accident can have a massive impact on your life. It can mean time off work, mounting medical bills, and a future full of uncertainty. That is why working with a motorcycle accident lawyer who can fight for the compensation you need is vital.
Motorcycle accident compensation can reimburse you for lost wages, medical bills, and other expenses. If your injuries were life-changing, compensation could also help you prepare for the future with greater financial certainty.
If you rely on the insurance company, you are unlikely to achieve a fair settlement for your motorcycle accident injuries. Instead, you need a tenacious legal team on your side, headed up by an experienced motorcycle accident attorney. Start your pursuit of compensation today by filling out our online contact form. We will be in touch soon to discuss your motorcycle accident claim.
Do Not Trust the Insurance Company's Estimate
The days after a motorcycle crash can be painful, confusing, and stressful. You may have no idea of the full extent of your injuries and how they will affect your ability to earn a living moving forward. Until you have had time to recover and go through rehabilitation, it may be unclear whether you can take care of your family or handle other responsibilities as you did before.
During this vulnerable period, the at-fault party's insurance company may swoop in with an offer of compensation. It can be tempting to accept, especially if you are facing piles of bills with no way to pay them. However, do not feel pressured to accept a lowball motorcycle accident settlement. 
Understanding how many insurance companies calculate compensation estimates can help you avoid falling into the trap of accepting the first offer.
How insurance companies calculate compensation
The insurance industry is known for paying out as little compensation as possible to accident victims. To simplify their work, insurance adjusters use tables and computer programs to calculate how much to pay you.
For example, if you come away from your motorcycle accident with a concussion and a broken arm, they will input these injuries into a computer program. It will calculate the average hospital bill for those injuries and the average lost wages. The insurance adjuster will then take a look at the details of your case and make adjustments as needed.
What insurance companies may not take into account
While this system works great for insurance companies, it rarely produces a fair settlement for motorcycle accident victims. That is because it fails to take into account the full impact of your motorcycle accident. It may not account for pain and suffering and other intangible consequences, such as the ability to enjoy family life as you did before.
They may fail to consider the long-term impact of certain injuries. For example, some people get over concussions in a few weeks, but the symptoms can last up to a year for others. If the insurance company does not take into account the full effect the motorcycle crash has had on you as an individual, you may never achieve the compensation you deserve.
Motorcycle accident attorneys can make a difference
Unlike insurance companies, a motorcycle accident lawyer has your best interests at heart. He or she is committed to listening to your story, investigating your claim, and building a strong case for maximum compensation.
An experienced personal injury lawyer will be familiar with common tactics that insurance adjusters use. He or she will know how to counter these attempts to lower your settlement value and use all the resources at his or her disposal to fight for the best deal for you. This may involve playing hardball at the negotiating table or representing you in court.
A motorcycle accident attorney, though, can protect your rights. Your lawyer should have the legal knowledge and experience you need to calculate and fight for a fair settlement.
Understanding Motorcycle Accident Compensation
Motorcycle accident settlements can be made up of several components. People who sustain serious injuries that have a long-term impact on their lives may receive more compensation than those with minor injuries.
Motorcycle accident compensation usually comprises special and general damages. Depending on the circumstances of the accident, punitive damages may also be awarded by the court.
Economic damages
Economic damages, also known as special or actual damages, compensate you for physical and financial losses, such as:
Medical expenses
Lost wages
Property damage, including the cost of replacing or repairing your motorcycle and gear
Future medical expenses
Cost of substitute domestic services
Ongoing caretaker costs
Loss of future earning capacity
These damages are usually easier to prove, as your personal injury lawyer can gather bills, pay stubs, and other evidence. He or she may need to consult expert witnesses to accurately assess the current impact of your injuries on your daily life.
If your injuries mean that you can no longer do the job you did before, your attorney can calculate your lost wages and missed business opportunities. Financial experts could help your attorney to make these calculations.
Medical expert witnesses may be called on to testify as to the impact your injuries will have on the rest of your life. Their testimony can help your attorney calculate the cost of future medical treatments, therapies, and caretaker support.
Non-economic damages
Also known as general damages, non-economic damages compensate you for the emotional and psychological impact of your motorcycle accident.
Depending on the seriousness of your injuries, you may be compensated for these damages:
Physical pain
Emotional trauma
Disfigurement or permanent scarring
Loss of enjoyment of life
Loss of consortium
Non-economic damages are more challenging to calculate. Insurance adjusters and motorcycle accident lawyers generally use one of the following methods to calculate them.
The per diem method is used when motorcycle injuries are less serious. It involved allocating a dollar amount for every day that the suffering continued. So if your suffering was deemed to last for 160 days and the dollar amount was $20 per day, your pain and suffering damages would be $3,200.
For catastrophic motorcycle accident injuries, they may use the multiplier method. This involves totaling the economic damages and multiplying them by a number, usually between 1.5 and 5.
The multiplier agreed on by the insurance company and personal injury lawyer will depend on how serious your injuries are. For less serious injuries, the multiplier might be 1.5 or 2, while devastating injuries may be closer to 5. Deciding on this figure may form a crucial part of negotiations between the parties.
Punitive damages
Punitive damages, also called exemplary damages, can be awarded depending on the facts of a motorcycle accident case. A California court may award them if a motorcycle accident lawyer can prove the at-fault driver acted maliciously.
The California Civil Code 3294 defines malice as "conduct which is intended by the defendant to cause injury to the plaintiff" or shows a "willful and conscious disregard for the rights and safety of others." If the person who caused your accident did so willfully, with the intention of causing you harm, it is possible that the court may award you punitive damages.
Most motorcycle accident settlements are obtained through negotiation. There is no possibility of obtaining punitive damages if you do not go to court.
How Insurance Policy Limits Affect Motorcycle Accident Claims
One challenge motorcycle crash victims may face is auto insurance policy limits. When a motorcycle accident is caused by another driver's negligence or recklessness, the other driver claims against the at-fault driver's auto insurance. However, California law only requires car owners to carry a minimum of $15,000 liability coverage, although motorists may choose to have more.
This means that your claims against the at-fault driver could be limited to $15,000. In many cases, that is not going to be enough to compensate you for lost wages and medical costs, let alone the suffering you have endured. This is where a skilled motorcycle accident lawyer may be able to assist you.
He or she may be able to explore compensation from other avenues, such as:
Your own auto insurance
The at-fault driver's employer (if he or she was working at the time of the accident)
The at-fault driver personally
Although this could sound discouraging, do not conclude that you do not have a case or that you cannot achieve a fair settlement. At a free consultation with a motorcycle accident lawyer, you can discuss all your concerns.
He or she will listen carefully and explain the legal options open to you. Each case is unique, and you may be surprised at the avenues you can explore.
Challenges and Opportunities in Motorcycle Accident Cases
When you meet with a personal injury lawyer to discuss your motorcycle accident lawsuit, expect him or her to be open about the challenges and opportunities you are likely to face. You have the right to be fully informed.
The outcome of a case depends on many factors, and motorcycle accidents can be particularly complex. The first obstacle that any motorcycle accident attorney must overcome is proving liability.
How liability affects compensation
To recover compensation on your behalf, a motorcycle accident attorney must prove the following points:
Duty of care: The other party/parties involved had a duty of care toward you
Breach: The other party/parties' negligent or reckless actions breached their duty of care
Cause: The breach was the direct cause of your injuries
Damages: You incurred losses and are entitled to compensation
California law allows you to seek compensation even if you were partly responsible. However, if no one else was involved in the accident or your own actions were the primary cause of the accident, you will not be able to seek compensation from anyone else.
Comparative liability in motorcycle cases
California follows the legal doctrine of pure comparative fault. So, in an auto accident, each party will be assigned a portion of the liability.
To determine liability, a jury will consider these questions:
Was everyone obeying traffic laws at the time of the accident?
Were there conditions beyond anyone's control, such as inclement weather?
Did road maintenance issues play a part?
Were drivers forced to make emergency maneuvers?
Did one or more parties act negligently?
In some cases, pure comparative fault can present an opportunity that is not open to motorcycle victims elsewhere. In California, you could theoretically receive compensation even if you were up to 99 percent at fault. This differs from some states that do not allow you to receive compensation if you were 50 percent or more at fault.
The amount of compensation you receive will be affected by your level of liability. For instance, if you were 40 percent liable, you could only win 60 percent of the compensation you could have won if you were not liable at all.
Proving liability
Sadly, the statistics show that motorcyclists are at high risk on our roads. Almost 6,000 motorcyclists died in 2021, totaling 14 percent of all traffic deaths that year. Yet motorcyclists only make up 3 percent of road users.
While motorcyclists are sometimes at fault, other motorists often fail to take motorcycles into account. It is especially important for them to check for motorcycles before executing left turns and check blind spots when changing lanes.
It can be a challenge to prove exactly what happened in the moments leading up to a motorcycle crash.
Skilled motorcycle accident attorneys may gather the following evidence to establish liability:
Footage from dash cams or surveillance videos
Photographs from the accident scene
Eyewitness testimony
The police report
In complex cases, a motorcycle accident attorney may call in an accident reconstructionist. These witnesses use evidence to reconstruct the accident, and their testimony can help to identify the liable party/parties.
Average motorcycle accident settlement
As motorcycle accident settlements are not a matter of public record, it is impossible to say what the average settlement is. The reality is that knowing the average settlement would not give an accident victim an indication of how much he or she could win, as each case is unique.
Instead, during your free case evaluation, you can ask your motorcycle accident attorney what your claim may be worth. He or she may want to investigate your motorcycle injury claim more thoroughly before providing an answer but may be able to refer to examples of similar case results.
These results show that the law firm has a track record of achieving great results for its clients and can give you confidence to move forward with them.
Why Choose a Harker Injury Law Motorcycle Accident Attorney
When you are hurting and traumatized after a motorcycle accident, you need to work with a personal injury lawyer you can trust – someone who will treat you like family, no matter how tough things get.
At Harker Injury Law, we believe in showing compassion to our clients and fighting aggressively to achieve justice on their behalf.
Our record speaks for itself. In one motorcycle accident case, we achieved a settlement of $1.25 million. While every case is different, our motorcycle accident lawyers show the same tenacity and dedication in every case they take on, no matter how small it may appear.
Are you ready to find out what the team at Harker Injury Law can do for you? Schedule a free case evaluation by calling us at 760-INJURED or complete our online form, and we will contact you soon.